The HAQAA2 consortium organized a Management Team (MT) meeting in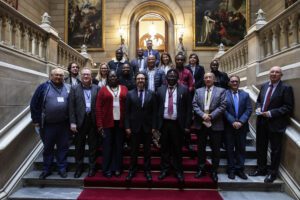 Barcelona, Spain hosted by OBREAL Global – HAQAA2 coordinator. This meeting marks the first physical meeting of the consortium members since the outbreak of covid-19. The meeting was held back to back with the Policy Data Unit (PDU) Development Team Meeting. It employed a hybrid format, enabling all consortium members to be present virtually.
The meeting discussed the flagship activities including:
HAQAA2 Dissemination projects a project call offering grants to HAQAA Ambassadors implement dissemination and capacity-building projects to strengthen the implementation of the Pan-African Quality Assurance and Accreditation Framework (PAQAF) and further dissemination of the African Standards and Guidelines for Quality Assurance (ASG-QA). 14 applications have been selected and Kick off workshop was held on 16/17 March 2022. Additionally, a Virtual launch event was held on 14 March 2022 for a QA Network Dissemination project (being implemented by RAFANAC, EAQAN and CNAQ) who are currently carrying out a mapping study of how countries in three regions are applying/adhering to the ASG-QA.
HAQAA2 Technical Working Group for the set up of the Continental Agency (PAQAA) is in the process of planning for a consultation phase, endorsed by the African Union.
HAQAA2 Agency reviews and consultancy visits – Seven countries will be reviewed.
The HAQAA2 Task force have drafted a User's Guide for the ASG-QA and the document will be shared with the HAQAA Ambassadors to provide feedback. The final document will be published in 4 languages.
A proposal for ACTS re-launch was also discussed.
HAQAA2 is supporting a Post Africa-EU Summit webinar series with the first webinar held on 24 March 2022.
The HAQAA2 consortium have reworked the Calendar 2022 that will include a number of physical activities such as Advisory Board in June in Cote de Voire.
Policy Data Unit (PDU) Development Team – the two day meeting took place and came up with a detailed roadmap that involves carrying out a focus group discussing in all regions of Africa (East, West, Central, south and North. The FG results will be validated in a planned meeting in June 2022 and will culminate with final report to be presented for validation in September 2022.
The Barcelona meeting in pictures